THE BOLD CUFFLINKS - BRASS
Voor 16.00 besteld, volgende werkdag in huis!
This original and industrially inspired cufflinks are truly unique . Inspired of the shape of a bold and embossed with our monogram. On the feed of the cufflinks you can find a stamp with the year 1769. This is the year of the patent of the steam engine of James Watt, in exactly the same type rating as the original patent.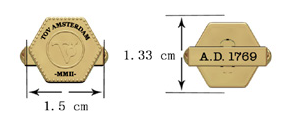 Brass has been used by mankind since the pre history. The properties of brass as weight, comfort, flexibility and durability make it great material to use for high quality jewelry. Brass is allergy free and can easily be worn by anyone. 
The cufflinks are in a standard size and fit all the cuff edges.